Well today my guild's October newsletter came out and with it my first block of the month article! Exciting, but I also saw that our president was looking forward to my monthly projects in their original form and I felt a little bad that I changed the plan to something admittedly less exciting.
Soooo....we'll do the monthly projects on here! I would create a button and such but I don't think this blog is quite big enough for that. Plus, since I'm going to do it as a casual thing on my blog, I probably won't get any of the samples done on time (or, let's be honest, ever).
My plan for these was to find a bunch of free tutorials on the internet each month around a different theme, which might be a technique, or in the case of this month, a critter. The original plan for October was to find projects around the theme of
"owls"
in honor of Halloween. Searching for free owl patterns is a black hole...there are so many and they are sooo cute! Also, I found out while searching for "paper pieced owl" that apparently the term can also mean objects made out of pieces of paper. Who knew?
So, here are all of the free tutorials I gathered up for various owl projects. Admittedly, most are not quilting-related, but they're all cute and fun. Click on the text below each image to go to the original website that hosts the tutorial.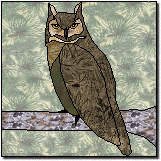 "Slumbering Owl Applique" by WeeFolkArt
Okay, that's all for now! If you know of other free owl patterns, let me know and I'll add them to the list!