Alright, it's now Week 2 of Bonnie's Allietare Mystery quilt!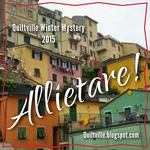 I'm really happy so far this year because I've actually managed to keep up! Last year I think week three was where I fell off the wagon - that one clue took me around a month. I hoping to stay on track this year.
So here's where I started:
I'm hoping the teal will give it a fun modern pop.
Here are my clue one colors in more details:
I'm not using a constant for the grey because I'm trying to use as much fabric that I already own as possible, and all of my greys are so similar that I think they will read as constant. Now you might see a purpley white in there, I haven't actually used it yet, I think I only will if I run out of all the other whites since I think it stands out too much.
For week 1 I was out of town for Thanksgiving. Here was my makeshift cutting area:
It's actually way better than my normal cutting area. The shelf is at perfect cutting height and it had these great bright lights right above it! (It was a little cluttered though).
Here's my week 1:
I have a fun story about these. For a lot of the week 1 whites, I was able to use leftover binding strips from my Celtic Solstice quilt! I bound that in a pretty sparkly white and I had a good amount of 2" binding strip left over - perfect for this use! I'm happy we are using 2" strips for everything this year because it enables greater use of scraps than last year's 2.5" size did.
Week 2: I went step-by step here, very methodical. :)
First, trapezoids!
Next, triangles!
Flying Geese - sort of!
White pieces! The circled one bothered me. I actually took this photo to look at it through the viewfinder and see if it still stood out as much. I think it blends it ok but it was really bothering me so I went ahead and got rid of it. Go with your gut!
And then I made the mistake of cutting 98 grey squares instead of black.
That's more like it!
All done! Phew!