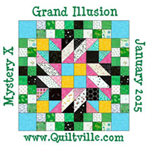 Well hello! I haven't linked up since week two because...well...I'm still stuck on clue 3. I don't know why, but it is going suuuuper slow for me. I've only gotten 90 of the 8 patch units finished.
But the advantage of falling behind is that I get to see whatever everyone else has done with their quilts before I decide what to do with mine! One of the most fun parts of these mysteries is to see how everyone makes the quilt their own.
I spent a loooong time last night arranging and rearranging my blocks in many formations to try to decide what my favorite layout was. I have narrowed it down to two options and would love your help choosing.
Option 1:
I really like how the pinwheels POP with the teal centers and navy edges. I think it makes a a bold, eye-catching statement. And since the pink and teal were my two favorite parts of this color scheme, I had to put the pinks in the cornerstones. But the big disadvantage of this design is that you lose the double diamond impact of Bonnie's original.
Option 2:
I think the pinwheels make less of a wham bang with the pink next to the teal centers instead of the navy, but this way you can see the secondary design of the diamonds formed by the navy lines. This is very similar to Bonnie's layout.
So, what's your vote? You have to squint and stand 20 feet from your computer before you decide! I might have to whip up some mock-ups in photoshop of how each design will look with the full number of repetitions.
And go check out all of the other quilts!
There is so much inspiration as many tops are complete! As always, thanks to Bonnie for putting this wonderful design out there for free. I know it can be a big headache for her with SO MANY participants, but it sure is a blast for all of us!