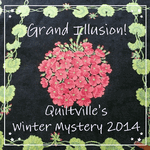 Well, I've been chugging along on my Grand Illusion quilt over here. This weekend I finished step 1 and am partway through step 2. I am keeping track of how many pieces we have cut so far...1360! Wow!
I always use Bonnie's quilts as a chance to practice my precision piecing. This time I followed her tip for setting up a little bumper along my 1/4" seam line. I sewed on an index card to be sure I had a perfect 1/4" seam, then used the index card to line up the bumper. The bumper is made of mole foam.
I think one of my biggest problems with piecing is just wibble wobbling around - the bumped solved that. Check out how perfect this square is!
Last year I had to manually square up every piece at every stage because they were all so wonky. This time I started squaring up my first few HSTs and then decided they were all pretty much on the mark. I'm feeling
really
accomplished about that.
I am also absolutely loving how the teal and pink look together. Those two colors were made for each other!
Here is a tip I learned from Bonnie last year: Keep everything attached and then when you iron it, it is way faster because you can line up all the blocks at once and just iron your way down the line.
I love this pic for so many reasons. Peeking out from behind the iron is my Celtic Solstice, all basted and ready for quilting. And in the background you can see the chain of all the other pieces trailing off on the floor. The orange thing on the near side is a fabric cutter designed just for chain piecing. It clips the pieces apart when you are ready. It's pretty nifty!
Here are my completed units from Step 1. I am feeling really good about my color choices! I haven't yet decided if I am going to try to square these guys up or not.
Now as for step 2, I used method 2. In this method you just tape the template to your ruler. I found this super easy because then I am just following the lines on the ruler as with any other cutting step. To me it was very intuitive. I was surprised that the majority of people online just method 3, which is kind of a flying geese-style method. When I used that for my chevrons last year, all the blocks were super wonky.
Here are all my cut pieces. On more tip I learned last year, from another participant: Use paper clips to keep track of how many you have cut. Here I clip each pile of ten and it's way easier to count the bright paper clips than to figure out how many piles I have.
I've only made one test block so far, but it turned out correct. I hope all the others do too!
Here's where I am at now: I have sewed the pinks onto all of my neutral diamonds. Next up: sewing all of the navy triangles!
Head over to
Bonnie's blog
to see what everyone else is doing. It's a lot of fun to see all the different color combos, and to see people laying out blocks and guessing what the design will be.