Hello! Have you started on your Grand Illusion mystery quilt yet??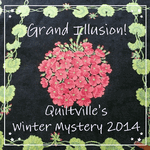 I'm not as caught up as the early birds, but I'm not too far behind either. I recently decided to change color schemes and the few days before Thanksgiving were spent rushing to every quilt shop in town to find just the right colors.
Early on I purchased a lot of the wrong fabric because I only brought the color cards places with me, not my actual fabric selections. As a result I had many fabrics that looked like they matched the card but just weren't quite right once I got them home and sat them next to the others in their color group. For fun, I assembled all of the fabrics that I have purchased for this project but will not be using.
A bunch of these, like the whites, greens, and yellow, were nixed when I changed color schemes. But all the teals and pinks were just not quite the right shade. But yeah, in terms of stash-busting, not so much.
Here are my lavenders (replacing green) for the project:
As you can see, the two on the left are just too dark.
And my teals. The top row are the "keepers," the bottom row is getting ditched. Most of them came out too green.
Now the pinks were especially hard. I had one that I loved and none of the others quite matched it. I couldn't find the right shade ANYWHERE. Here is the medley I had on Tuesday morning.
Luckily the last quilt shop I visited had an abundance of this shade, so by the end of Tuesday my pinks now looked like this:
Much better! And here are the final fabrics all together:
So, this weekend I was traveling for the holidays, so I did not bring my machine. However, I did bring all of my cutting supplies and set myself up in a nice bright part of the house for some cutting.
I kept running into the problem of bends in my fabric. It is a problem I have often and it drives me absolutely nuts too.
So I posted it on the trusty Quiltville facebook group and immediately got over 100 responses. The most simplest, and what worked for me, was a reminder to make sure that the fold is perpendicular to your cutting line. It sounds really dumb, but I had only been focused on my cut edges lining up and hadn't even considered the fold!
A couple of people said to just skip the aggravation and cut the fabric in half, and for my 1/4 and 1/3 yard pieces I took their advice. It does take a lot of the stress out of cutting.
I took my sweet time with the cutting, it probably took me about 6 hours overall. I find it very relaxing once you hit your rhythm. Here we are all complete! 760 pieces!
And here is where my cut pieces are today:
All ready to be sewn! And am I sewing them? Nope, because I am writing a blog post instead. Lol.
Go visit the
linky party here
. The best part of this project is sharing in the joys, struggles, and successes of each other. Our facebook group has had members post who have never made a quilt before, those who have already cut all their HSTs the wrong size, and those that were done with step 1 within the same day of Bonnie's posting. We are all cheering each other on and I LOVE it! I was thinking yesterday that this project is really my Christmas present to myself!
Stop by next week for more progress, and if you haven't started the mystery yet, WHY EVER NOT?!