I am so excited that for the first time ever, I will be participating in a Bonnie Hunter mystery quilt-along! Bonnie's quilts always come out GORGEOUS and I have wanted to participate for some time. However, usually I have just too many other projects going on. Not so right now! I have cleaning out my UFO pile and am feeling confident and ready to tackle this new project.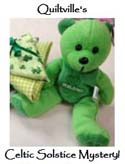 Now normally I would trust Bonnie on color selection, but I was not a fan of her choices this time. I lately have become obsessed with a certain shade of bright blue, so I plugged that into Adobe Illustrator and came up with the following palette.
Now my stash isn't very large, so I will admit that I went on a bit of a shopping spree to procure these fabrics. It was very fun to get quarter yards of many different fabrics in similar shades. Surprisingly, I already had enough lime green, which to me is odd because it isn't a color that I have a particular affinity for. Somehow it shows up in all of my projects I guess!
The mystery starts next week - I can't wait! You can learn more about it
here
if you are interested in participating.