You guys. YOU GUYS!! Bonnie Hunter has posted the
intro to her newest mystery quilt
. I had an absolute blast and a half making Celtic Solstice last year and I CAN'T WAIT to do this year's!!!
I love Bonnie's quilts because they always look gorgeous. I know when I do her mystery quilt that I will love the outcome. Plus she always has such amazing technique tips...and all those small pieces really challenge me to get better at precision piecing.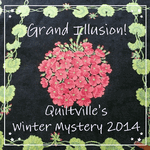 Speaking of Bonnie's mystery, right now I am working on finishing Celtic Solstice! My goal was to complete it before her next mystery starts. The first clue doesn't go out until November 28 so I should be good. Here is my sandwich being put together last night.
This time I tried spray basting. We shall see how it works. To be safe I am stitching securing stitches in wash-away thread. The batting is wool. I have never used wool before but I am quite excited about it. It seems quite soft and fluffy! Also this thing is a true behemoth. The biggest quilt I have ever made, literally. I'm basically in a wrestling match with it at the machine. I'll let you know how it goes!
Here our newest foster kitty, Rosie, models on the quilt. She is a real sweetie, she has been keeping me lots of company in the sewing room. :)